Saturday, April 13th, 1991
After 68 years:  Second Edition of "Narrative" Printed by Oregon Historical Society Press
IT'S HERE!
That jubilant message from Bruce Hamilton, director of the Oregon Historical Society Press, announced the arrival in Portland of the historic Second Edition of Ranald MacDonald: The Narrative of His Life, 1824-1894.
The Friends of MacDonald has been instrumental in making re-publication possible, thanks in large part to FOM Chairman Mas Tomita and Epson Portland Inc., of which Mas is president.
"Enclosed in the first copy of the special edition of Ranald MacDonald's Narrative," Hamilton wrote Tomita.  "All of us here at the Society, and the Press, but most especially for my part, wish to express our great and lasting gratitude for your support of this project.  Without your direct support we would not have these books in hand at this time, and we would not be able to provide to so many new persons the opportunity to become acquainted with Ranald MacDonald and his extraordinary life."
Said Chairman Tomita:  "OHS delivered my copy just in time for Christmas.  It is one of the best Christmas gifts i can imagine.  Epson Portland inc. is glad to have been able to help with this publication, so that many more people can read this remarkable story."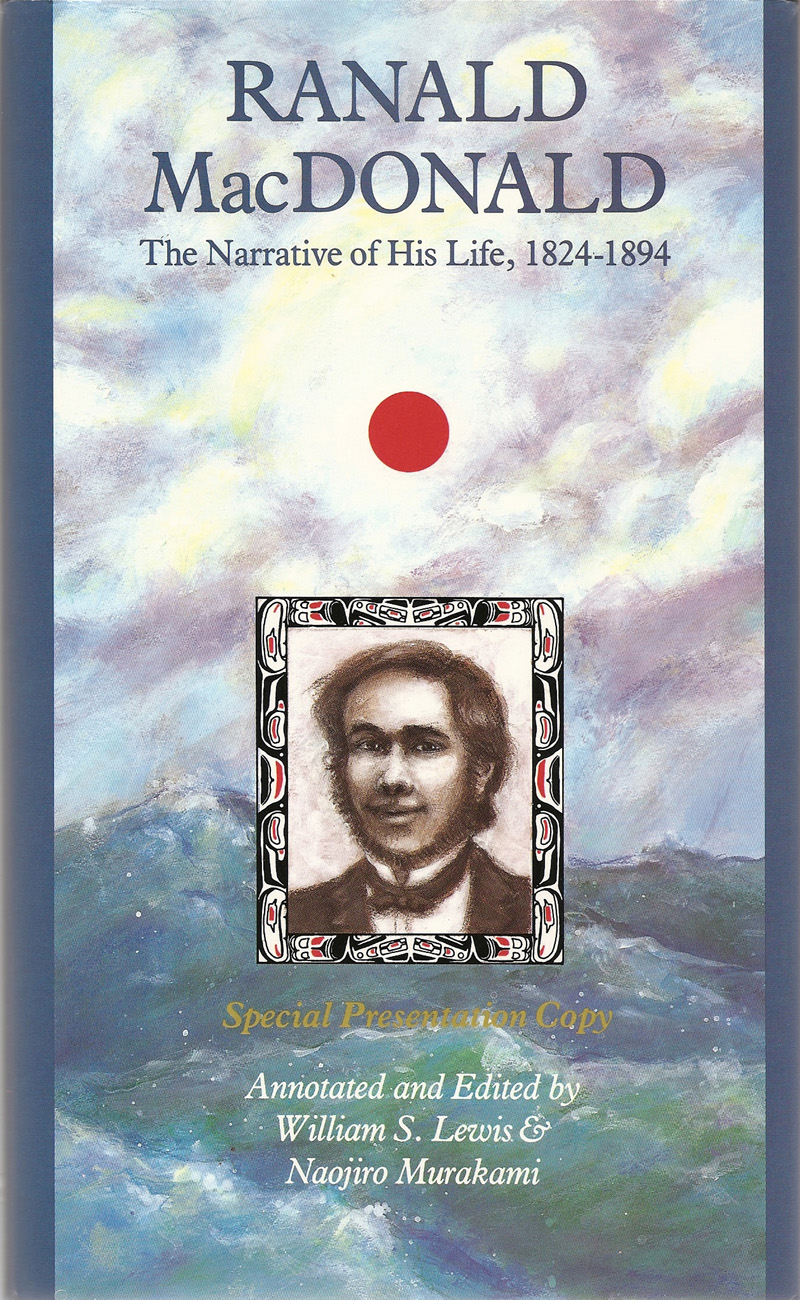 Ranald's "Narrative" was first published in 1923, almost 50 years after his death, by the Eastern Washington Historical Society, in a limited edition of 1,000 copies.  The volume includes not only Ranald MacDonald's adventures in Japan in 1848-49 but also an account of his life before and after his journey and a biographical sketch by the original editors:  Naojiro Murakami (1868-1966), a Commissioner of Historical Compilation for Japan, and William S. Lewis (1876-1941), of the Eastern Washington Historical Society.
The heart of the "Narrative" is Ranald's memoir of his voyage to Japan in 1848.  Written some 40 years after the adventure, it recounts his successful efforts to enter forbidden territory, his imprisonment, his months  spent teaching English to Japanese scholars and his "rescue".
(Ranald's own heartbreaking attempt to publish his book during his lifetime will be among topics discussed during the 1991 FOM Spring Seminar in Astoria.)
Presentation copies of the book are being distributed by FOM and EPI to academic libraries, government leaders and interested groups in the USA, Canada, Japan and Scotland.  The new edition includes a forward by Donald J. Sterling, Jr., FOM member, former OHS president and Oregon Journal editor now with the Portland Oregonian; and an afterward by Jean Murray Cole, FOM member, Canadian writer and author of Exile in the Wilderness, a biography of Ranald's father, Archibald McDonald.  Mrs. Cole presented a distinguished paper on the family during the 1898 FOM spring seminar.
The new edition was edited by Kim Carlson of the OHS staff.  Designer was George Resch of the OHS staff, and the new-to-all-of-us illustration on the jacket is by Lisa M. Chiba, who created a portrait of Ranald at age 24 from later photos.
Although editors sought to make the new book resemble the original edition as closely as possible, there is one notable graphic addition:  Japanese characters appear on the last page and embossed on the back cover of the new edition, the traditional locations of Japanese book title pages and front covers, respectively.  The characters repeat the book title.
~ ~ ~ ~ ~
FUTURE PLANNING – which "road" does FOM take?
FOM member Don Sterling has written some thoughtful and provocative comments which suggest interesting paths for Friends of MacDonald to pursue.  Excerpts from his letter –
"Dear Friends,
. . . It seems to me there are two ways the Friends can go in honoring Ranald MacDonald.  One is to concentrate on his own life and adventures.  This would involve the study not only of his career but of the climate of his times — on the lower Columbia, at the Red River settlements, in Japan, and wherever his travels took him in his later life.  It would involve many interesting cultures and personalities, but in my opinion it is a more limited field than the Friends ought to occupy.
The other approach – which I think is preferable – is to regard MacDonald as the personification of the early contacts between the West and Japan in the mid-19th Century.  Without ever losing sight of MacDonald himself, the Friends gradually could assemble and disseminate information about a wide range of related subjects, such as:
* The Dutch merchants at Nagasaki;
* The visits to Japan of whaling crews and other Westerners;
* Travels abroad by Japanese when such trips were still officially forbidden;
* The interpreters MacDonald taught, and their later activities;
* Events surrounding the arrival of Commodore Perry's "Black Ships" and the immediate consequences in Japan;
* Townsend Harris's  experiences as the first American consul in Japan.
* The first visit of Japanese emissaries to the United States.
. . . Whichever course the Friends organization takes, there are a number of things it could do, such as:
* Compile and publish a bibliography of writings about MacDonald and related subjects. (Note: a preliminary draft has been distributed);
* Establish collections of the most important works in several key libraries, such as in Astoria and Portland and in a few of the most appropriate places in Japan;
* Promote communication among the Friends' membership by publishing not only a newsletter but also a journal of articles on MacDonald-related subjects.  (Any publishing should appear in both English and Japanese);
* Hold occasional dinners and other gatherings where members of the Friends and others interested in MacDonald-related subjects can become acquainted with each other;
* Encourage original studies;
* Establish cooperative relationships with other organizations similarly interested in the period, such as the new North Pacific Studies Center of the Oregon Historical Society;
*Locate, map and mark important sites connected with MacDonald's life and vision;
* Sponsor tours to relevant historical places in north America and Japan . . . "
~Don Sterling
~ ~ ~ ~ ~