Tuesday, October 6th, 1998
150th Anniversary of MacDonald's Trip to Japan Celebrated in 1998 — FOM Members Tour Japan in September
1998 has been an active year for Friends of MacDonald and one that was full of events including Ranald MacDonald's birthday luncheon held in Astoria on February 3rd., an educational outreach at the Japan-America Society of Oregon's "Glimpse of Japan Workshop" in May, a sailing adventure and historical reenactment on board Lady Washington in June, and a members' tour of Japan in September.
These highlights – among a calendar of conferences, lecture programs and book presentations – provide more news than can be fully told in this newsletter.  So we hope that readers will come to FOM events planned for 1999 and take part of the 150th Anniversary year of Ranald MacDonald's stay in Japan.
In September a delegation of five FOM USA members set foot on Rishiri Island to view the place where Ranald MacDonald set foot in Japan as an intentional castaway in 1848.  The tour was organized by Mr. Ken Nakano who led the 1998 adventure from Hokkaido to Nagasaki in the footsteps of MacDonald.
Participants included: Atsumi Tsukimori of Spokane, Fred Schodt of San Francisco, Massie Tomita and May Namba of Seattle, and FOM tour adviser and tour leader Ken Nakano.  FOM is especially grateful to Ken for his efforts at organizing a most successful trip to Japan.
FOM is also deeply grateful for the warm welcome our members received from so many friends during their tour of Japan.  For a first-hand account of the trip see the story by Atsumi Tsukimori inside this newsletter.
*****
MacDonald's Castaway Arrival Reenacted on Board Lady Washington on 150th Anniversary
On June 27th, 1848, as the whaling ship Plymouth lay off the coast of Hokkaido, Japan, a young adventurer named Ranald MacDonald launched a small boat from the ship and sailed toward Japan.  He intended to arrive as a castaway in order to enter a feudal kingdom where no foreigners were allowed and foreign trade was outlawed by the Tokugawa Shogun.  But MacDonald was convinced that the Japanese people would welcome him and so he equipped his boat "Little Plymouth" with provisions for thirty days and carried books for purpose of teaching the Japanese about the world from which he came. . . 150 years later, on June 27, 1998, the scene was reenacted for members of FOM and passengers on the Lady Washington during the Saturday afternoon sail on Gray's Harbor from Westport, Washington.  Young Ranald MacDonald was portrayed by Captain Les Bolton, Executive Director of Grays Harbor Historical Seaport.  Dressed in 19th century sea-faring attire, the bold adventurer climbed into the small boat "Little Plymouth" and rowed off for "Japan".  Then he rocked his boat and took on water so as to appear as a castaway as MacDonald actually did 150 years ago.
Departing from historical accuracy at the end of the day, Captain Bolton rejoined the ship to greet guests such as Consul Rikio Minamiyama and family from the Consulate General of Japan Seattle Office, Mr. and Mrs. Bruce Berney from Astoria and Friends of MacDonald Chairman Jim Mockford with Cheryl and Jenny Mockford, too.  A full charter of ship passengers joined in on the fun.
*****
JASO Glimpse of Japan Workshop
On May 1, 1998 the Japan America Society of Oregon (JASO) organized its Glimpse of Japan Workshop at the World Trade Center in Portland.  FOM Chairman Jim Mockford presented "The Adventures of Ranald MacDonald" as one of the many workshops that students and teachers attended during the day.  Because a large number of participants were Japanese language students, the presentation included an exploration of Ranald MacDonald's study of Japanese.  FOM has a copy of Kenji Sonoda's publication , "Ranald MacDonald's Glossary of English and Japanese Words" which was utilized as a resource for the Glimpse of Japan Workshop.
The annual event is attended by hundreds of students in the Portland area.  Friends of MacDonald founder Mas Tomita enjoyed presenting the story of Ranald MacDonald at this event in 1994 and FOM was delighted to continue to participate in this informative and important educational program.
*****
ASPAC Conference
"Bridges:  Early Ties Between Japan and the United States" was the title of a panel presentation by FOM members at the ASPAC '98 Conference held at Whitman College in Walla Walla, Washington in June 1988.  ASPAC is the Asian Studies on the Pacific Coast chapter of the Association of Asian Studies and the FOM panel was chaired by Dr. Stephan Kohl, Professor of Japanese Literature at the University of Oregon.  FOM Chairman Jim Mockford discussed his paper, "Maritime Explorations of the Coast of Japan", and was followed by Peter Morris who presented "MacDonald, The Intentional Castaway".  Dr. Kohl described the story of Japanese castaways whose adventure took place in 1815.
*****
NASOH Conference, Vancouver Heritage Lecture,
WSU-Nishinomiya Japanese Educators Program
The North American Society for Oceanic History (NASOH) invited FOM Chairman Jim Mockford to present his paper "Maritime Exploration of the Coast of Japan in the Late 18th Century" at the NASOH '98 Conference held at the San Diego Maritime Museum in April.  Mockford's lecture was adapted to include the story of Ranald MacDonald's Adventure in Japan.  A presentation copy of Ranald MacDonald's biography was presented to the Naval Historical Center.  In September Mockford gave a lecture to the Vancouver heritage Program at the historic Marshall House on Officer's Row, Vancouver, Washington. MacDonald was one of the first six students at the Fort Vancouver school in 1834.
In October Washington State University-Vancouver Branch Campus hosted educators from Nishinomiya, Japan.  Mockford told Ranald MacDonald's story in Japanese and accompanied the teachers to Fort Vancouver where they visited the Japanese castaway's monument and toured the site where young Ranald MacDonald attended school.  Only two months after MacDonald left for Canada in the spring of 1834 the three Japanese castaways arrived at the fort and attended school.  It is said that their story influenced Ranald MacDonald to become a castaway in Japan.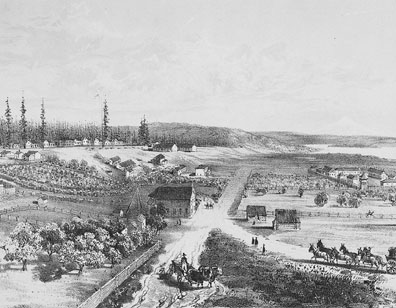 ~ ~ ~ ~ ~
ATSUMI'S JAPAN TRIP REPORT~Participating in the Ranald MacDonald 150th Anniversary Tour
Ever since I read an article about "Explorer's Smile Led to Japan Trade"  in the local newspapers about five years ago, I was charmed by Ranald MacDonald.  I visited Toroda, Washington right away (MacDonald's grave site) and I have dreamed about a possible trip to see the historical sites which mark his legacy.  This September, the dream came true.
This September I was lucky enough to be included in the 150th Anniversary trip to Japan organized by Ken Nakano and completed the two-week visit with wonderful memories and great satisfaction.  Traveling from the northern tip of Hokkaido where Ranald MacDonald first landed to the southern tip of Kyushu where he spent most of his time teaching English was not an easy task.  There was one ferry boat ride, one local airplane flight, many bullet train rides, not to mention two underground tunnels.  It was a miracle to accomplish so much in so little time – despite the Northwest Airlines strike!  I want to thank Ken Nakano for organizing and working hard through the entire trip.
There were four heart-warming meetings with Japan's MacDonald Society in Sapporo, Rishiri, Tokyo and Nagasaki, and three other just as wonderful meetings including one organized by the Japan-America Society of Hakodate, one in Matsumae with Matsumae towns people, and another in the town of Mihama, Aichi, where the Japanese castaway Otokichi is remembered today.  Our group of five, Ken Nakano and Massie Tomita, May Namba, Fred Schodt, and myself, felt as though we had known our Japanese hosts our whole lives.
We visited the actual landing site at Rishiri Island and then saw the town of Era in Matsumae where Ranald MacDonald spent 22 days before he was shipped to Nagasaki.  Then we went to Nagasaki to see the spot where he lived for seven months and taught English.  We also visited Ranald MacDonald's original student Moriyama's grave in Nagasaki.  There are two other of Moriyama's graves in Tokyo – one is "owned" by Moriyama's son from his second marriage and this one now keeps Moriyama's bones; the other is "owned" by Moriyama's daughter from his first marriage.  We visited all three and dedicated flowers.  In Tokyo we paid a courtesy visit to the American Ambassador to Japan, The Hon. Tom Foley, and the Canadian Embassy.  Then we attended a meeting with Tokyo Friends of MacDonald group including Torao Tomita and Akira Yoshimura.
In those two weeks in September  I went to so many places and met so many wonderful people.  O learned a lot about true friendship and I cried a lot when I departed from each place.  I thank all the people I met who also love Ranald MacDonald, and Ken Nakano who made this dream trip come true.  ~ Atsumi Tsukimori McCauley
~ ~ ~ ~ ~