Sunday, January 31st, 2010
by FOM Chairman Mas Yatabe
After visiting Nagasaki in January of 2009 – where Ranald MacDonald first taught English – I had a strong urge to make my own pilgrimage to Rishiri Island, to the spot where Ranald first set foot on the soil of Japan. When an opportunity presented itself during a business trip in July, I felt that I could afford to take a side-visit to Rishiri, though I knew the time I could spend there would be very limited.
I left my hometown of Tatebayashi in Gunma Prefecture around 7:30 in the morning and after a couple of transfers I got on the Tohoku Line of the Shinkansen [bullet train] in Tokyo – which rather quickly arrived at its northernmost stop in Hachinohe, Aomori Prefecture. However, it was almost 7:30 pm by the time I finally arrived in Sapporo where I was met by my long-time friend, Katsu Yamazaki [one of the FOM's charter members. Mr. Yamazaki became a member of the Friends of MacDonald when he was assigned to lead the Portland office of Itogumi Corporation of Hokkaido back in the 1980's.] Even though the hour was late, because my time was short Mr. Yamazaki suggested that we drive north as far as we could that same night.
After driving several hours in the rain along a dark two-lane road, it must have been around midnight that we arrived at a little town called Teshio, and we were on the road again by 6:00 am the next morning, heading toward our destination of Wakkanai. [An interesting side note is that Wakkanai and Portland are on the same latitude.] We arrived early enough that we actually had to wait for the ferry, which was to leave the Port of Wakkanai at 7:50 am for Oshidomari, the only Port on Rishiri Island. We arrived at Oshidomari around 9:30 am, which gave us just about an hour and a half to explore before we had to catch our return ferry at 11 am. A very tight schedule, indeed!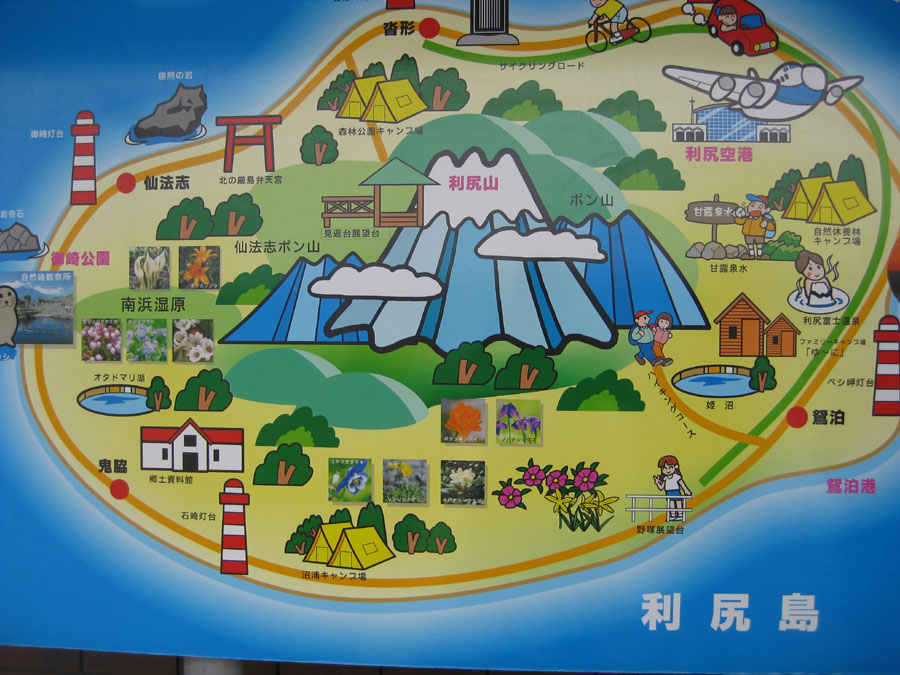 Map of Rishiri Island. Looks like a cartoon but it's not.
Fortunately, Mr. Eiji Nishiya, Curator of the Rishiri Museum and Secretary of FOM Japan, would be waiting for us at the Port of Oshidomari, and was ready to take us to the monument commemorating the spot where MacDonald first landed on Rishiri Island. As we were approaching the island I was thrilled to see Mt. Rishiri appearing and disappearing in the clouds – the very same mountain peak that MacDonald saw almost exactly 171 years ago as he made his approach to Rishiri Island in July of 1848. I have heard it said that MacDonald had perhaps set his course for Rishiri Island [rather than the closer mainland] after sighting Mt. Rishiri, because its appearance reminded him of Mt. Hood – the mountain of his childhood when he was schooled at Fort Vancouver, WA. After viewing both peaks with my own eyes I could certainly understand his nostalgia.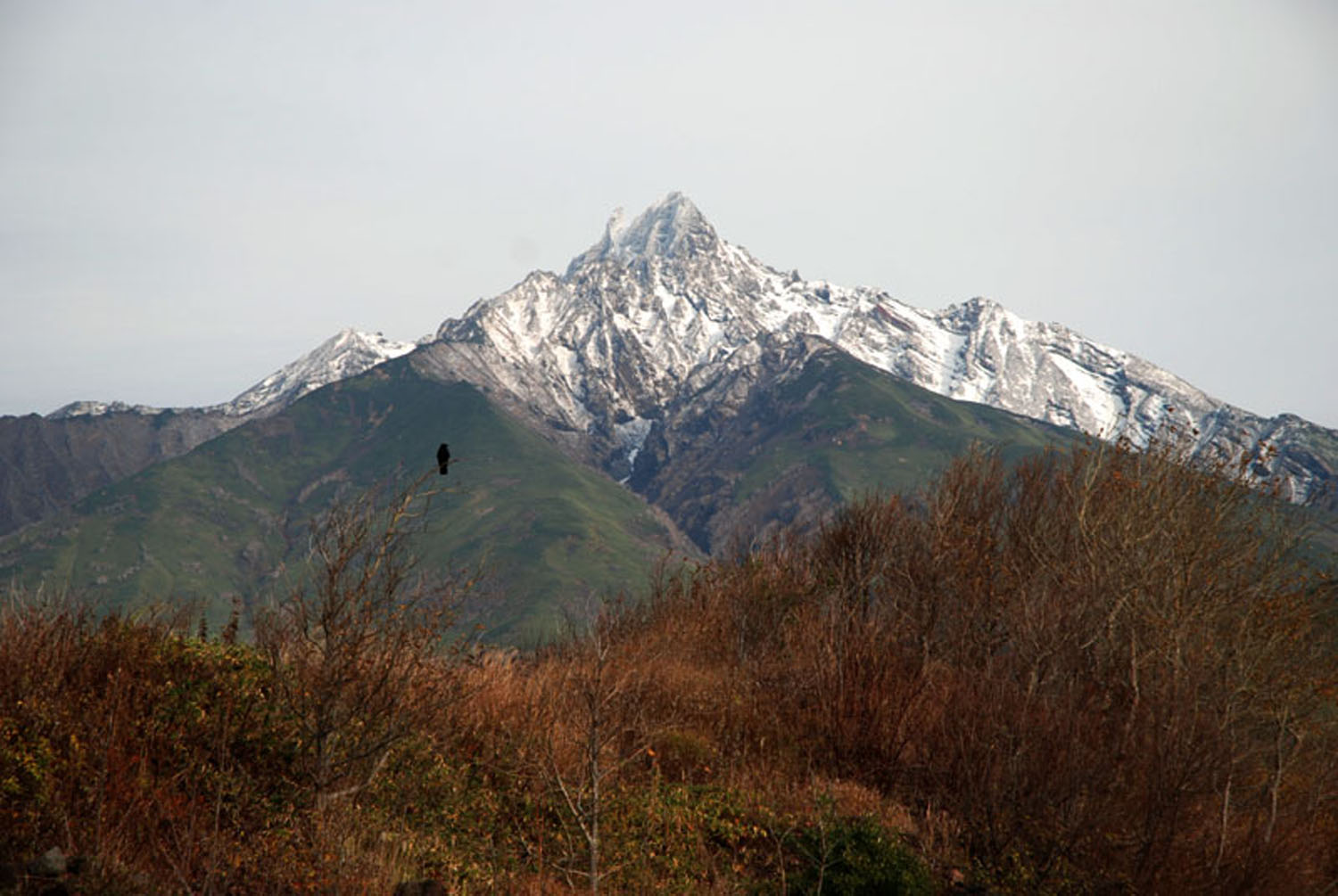 Mt. Rishiri, July 2009 ~~~  photo taken by Eiji Nishiya
I would have loved to have been able to stay for a few hours and explore before returning on the afternoon ferry, but since my schedule was so tight – and in order to return to Sapporo that same evening – we had no choice but to catch the 11:00 am ferry back to Wakkanai. It was a good thing that MacDonald's monument stood only a few miles from the Port, so Mr. Nishiya was able to get us back to the ferry in short order.
With Mr. Nishiya at the MacDonald "landing site" monument
After taking a couple of photos at the stone monument, Mr. Nishiya drove us a few minutes down the road to a rocky cove where a couple of small boats were beached. It is Mr. Nishiya's belief that this beach was actually the spot where MacDonald first set foot on Rishiri Island [as opposed to where the monument sits.] Though we were pressed for time, I wanted to put my feet on the rocks where MacDonald stood, so while Mr. Nishiya and Mr. Yamazaki watched and waited up on the hill, I clambered down to the beach, and, like MacDonald, I slipped and fell [and dislocated a finger, incidentally.] As I was climbing back up the hill, I remembered how Ranald had a problem "ascending the steep, rocky bank" in his 'new' zori sandals.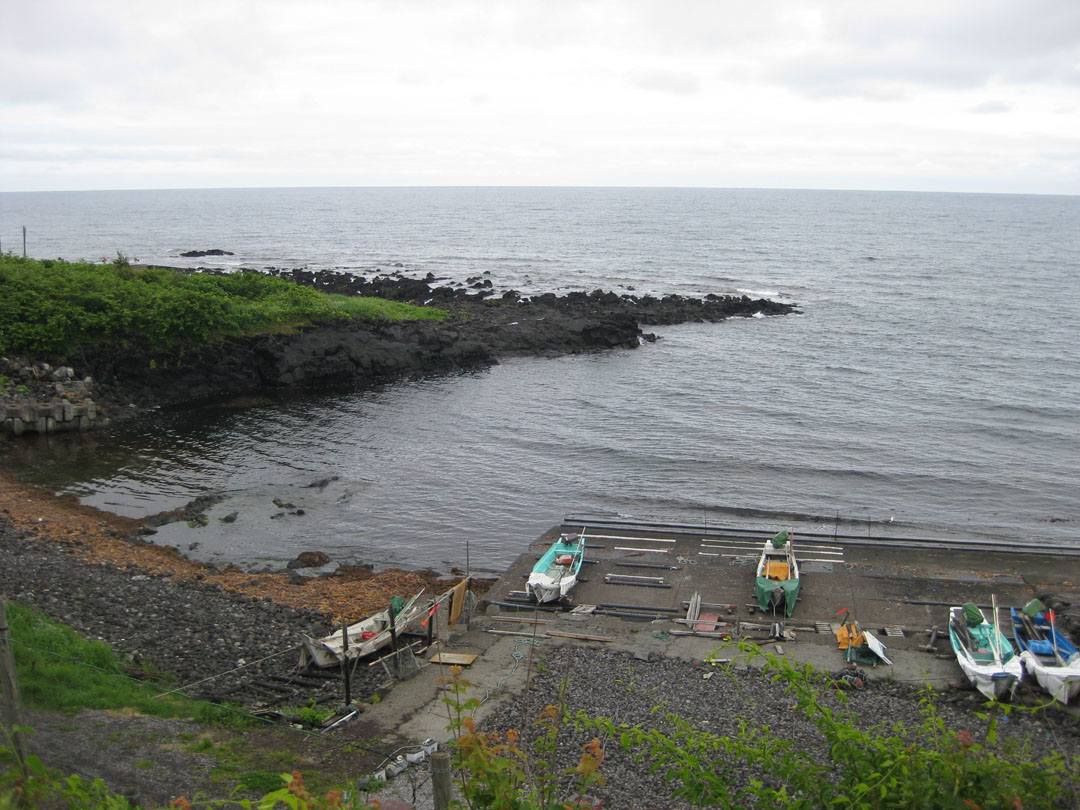 The beach where MacDonald landed?
I can now say that I have stood in many of the key places that MacDonald himself stood – Astoria, Oregon, Ft. Vancouver, WA, Lahaina, Maui and now Rishiri and Nagasaki, Japan. I can better understand and realize what a significant impact this man had on US-Japan relations. If it were happening today, Ronald MacDonald would be a celebrity/hero and perhaps his photo would be on the cover of TIME magazine. Sadly, though, more people equate the name 'Ranald MacDonald' with hamburgers than History. Collectively, we at "Friends of MacDonald" must continue to work hard to educate people about the important historical significance of the Fearless Adventurer known as Ranald MacDonald.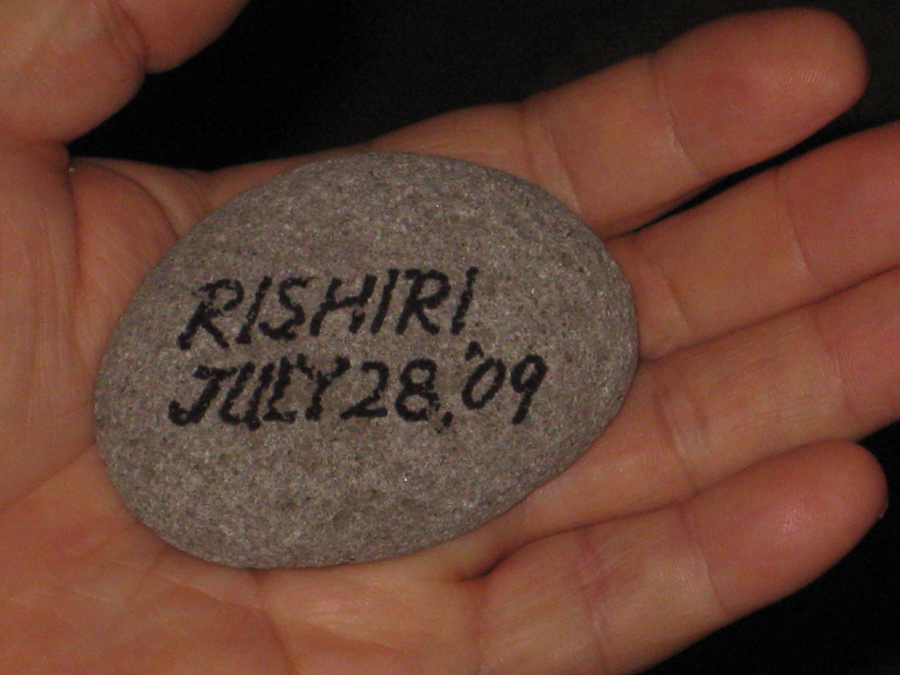 **