Wednesday, February 25th, 2015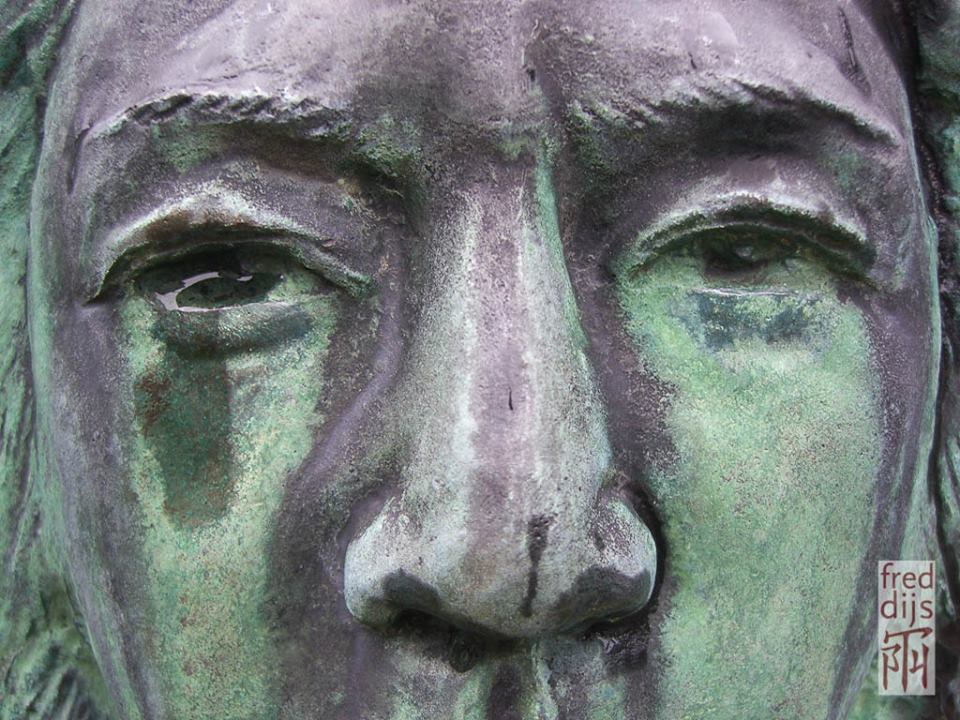 For the past 20 years, there stood a lonely monument of Japan's very first "Native-Speaking English Teacher", Ranald MacDonald, along Matsunomori Street of Kaminishiyama-cho in Nagasaki-City. It was erected in 1994 by the Nagasaki-Minami Rotary Club as part of their 30th Anniversary Project under then-President, Dr. Masami Obama.
Ranald MacDonald was captured as an illegal intruder on the shores of Rishiri Island in 1848; however, because of his good attitude and respectful behavior toward the Japanese people and its culture and traditions – unlike other foreign sailors who were washed ashore – he was "merely" placed under house arrest at Daihian.
At that time, the Tokugawa Shogunate was feeling the need for trained interpreters who could be effective in the English language rather than the traditional Dutch-oriented interpreters. The arrival of MacDonald, who had received a good education because of his Scottish father, Archibald MacDonald, was quite timely, and the Shogunate immediately arranged to use him as a temporary teacher of English, primarily for "conversation and pronunciation".
The Dutch interpreters, 14 of them, commuted to Daihian for the next 7 months for Ranald's English lessons till Ranald was forced to return to go back home. The leader and best student among the 14 was Einosuke Moriyama.
Several years later, when Commodore M. Perry of the US East Indies Squadron came to Japan to demand the Shogunate to open its door to America, Moriyama acted as a chief interpreter on behalf of the Shogunate. Subsequently, Moriyama worked hard to interpret and negotiate with the British, French, Russians, etc. Much praise of Moriyama's language and negotiation skills were written in the records of foreign governments.
A monument dedicated to Einosuke Moriyama was (finally) dedicated on September 12, 2014 – it can be found along Matsunomori Street of Kaminishiyama-cho in Nagasaki-City, right next to the MacDonald Monument – and it is quite appropriate that the two monuments of MacDonald and Moriyama were erected side by side. Be quiet and listen! You might hear the exchange of laughter and conversation between the two. I am confident Ranald is no longer lonely there. ~ Mas Yatabe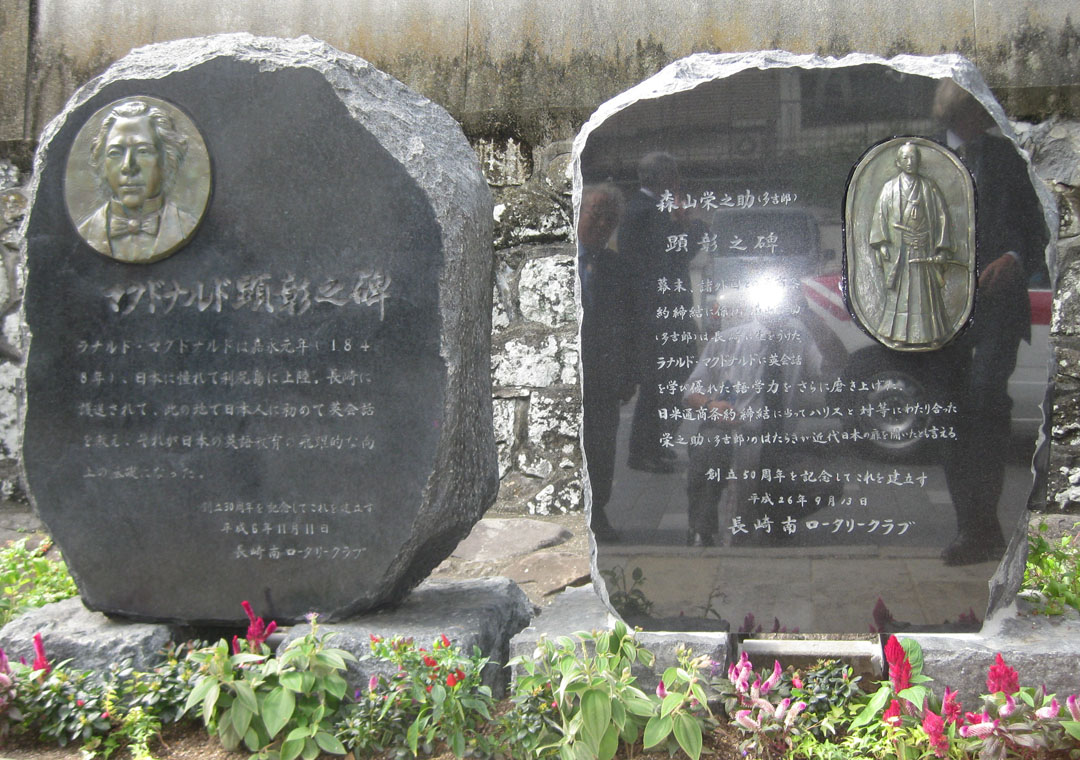 過去20年間に及び長崎市上西山町松の森通り沿いに「日本で最初の英語教師」として今日崇められているラナルド・マクドナルドの顕彰碑がひっそりと佇んでいた。それは長崎南ロータリークラブ(当時、小濱正美医会長)が1994年に同クラブ創立30周年記念事業として建立したものであった。
マクドナルドは1848年に"密入国者"として囚われの身になったが、他の外国人遭難船員等の違法入国者と異なり、日本人、日本文化に対する誠意ある尊敬の念と良好なる態度が長崎奉行により認められ松の森通り沿いに在った大悲庵と称する座敷牢に幽閉されたのであった。
時を同じくして幕府は当時従来のオランダ語中心の外国語通詞から、英語に長けた通詞養成の必要性を感じていた。そこにたまたま父親、アーチボルド・マクドナルドによりしっかりとした教育を身に付け、態度良好で英語を母国語としていたラナルド・マクドナルドの出現は、臨時英語教師として打って付けであった。よって出島のオランダ語通詞たち14人はマクドナルドから英語、主として英会話の指導を受けるため大悲庵に通い始めたのであった。マクドナルドを師とする英語のレッスンは、マクドナルドが強制送還されるまでの7ヶ月間続けられ、その14人の通詞たちのリーダーであり、最も優れた生徒が森山栄之助であった。
マクドナルドが去った数年後に徳川幕府に「開国」を迫ってやって来たペリー提督率いる米国東インド艦隊との交渉の際、幕府側の主席通訳として森山は大活躍した。その後、次々にやってきた英国、フランスやロシアとの通商条約締結の交渉に森山は徳川幕府にとり不可欠な存在となり、その事は特に外国の文献に森山の優れた語学力と交渉能力を称える記録が残っている。
今回、師弟関係にあったラナルド・マクドナルドと森山栄之助の顕彰碑が並列して建立された事は、実に喜ばしい! 耳を澄ますと、二つの碑の間で往時を偲ぶ会話と笑い声が交わされているのが聞こえてくるようにさえ感じられる。 察するに、今ではラナルドも寂しさから開放されたに違いない。- 谷田部 勝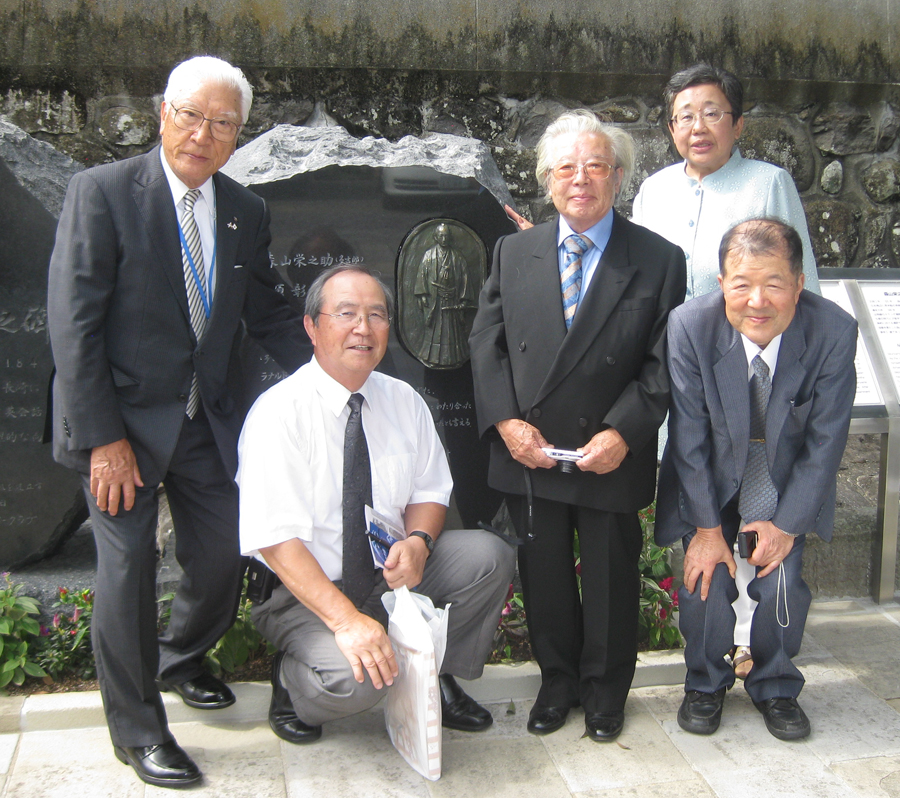 (from L to R) Dr. Masami Obama, Mas Yatabe, Kazukuni Yamazaki(Sculptor), Michi Goto, Yuji Aisaka 小濱正美医、谷田部 勝氏、山崎和國氏(彫刻家)、後藤 道女史、逢坂祐二氏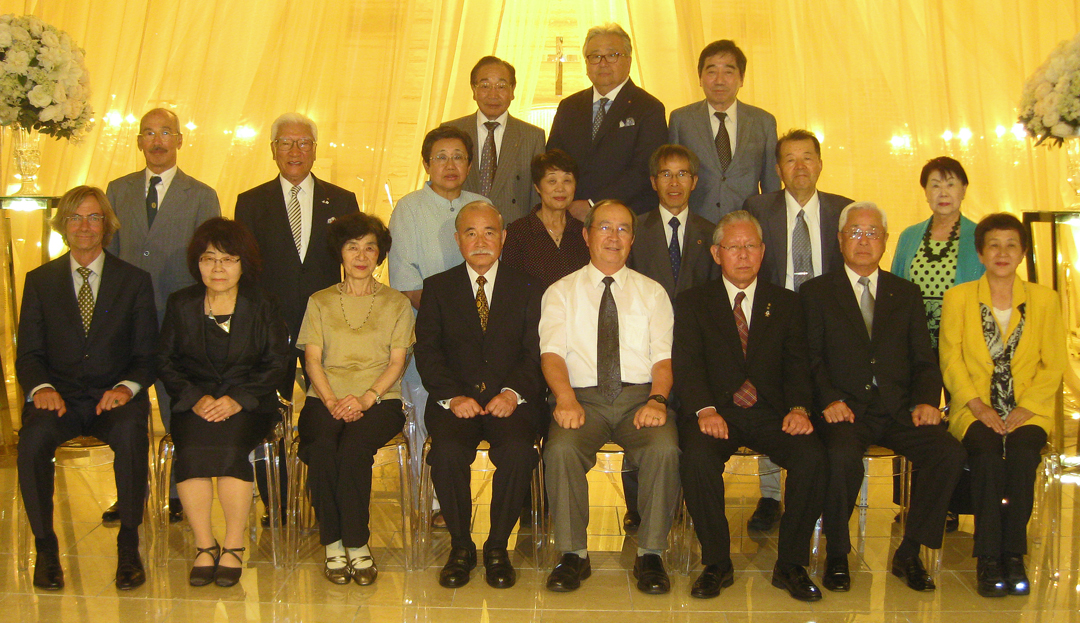 It was a gathering of FOM members from Hokkaido, Tokyo, Aichi, Kyoto, Osaka, Nagasaki and even Holland and the U.S.A. "It was fun and enjoyable – just like a class reunion," per Ms. Yumiko Kawamoto. 記念撮影: 森山栄之助顕彰碑除幕記念晩餐会出席者一同 出席者は北海道、東京、愛知、京都、大阪、長崎、更に海外のオランダ、アメリカ・・・と「和やか、且つ楽しく同窓会みたい!」とは河元由美子女史の弁。
Save
Save