Sunday, June 28th, 2020
Ranald MacDonald was the first son of Hudson's Bay Company Chief Factor Archibald McDonald. Our mother, Jean Murray Cole, Archibald MacDonald's great-great granddaughter, has written extensively about both Archibald and Ranald. My sister Catherine and I were raised on stories of their adventures.
On August 25, 2019, we travelled to Rishiri Island to see where Ranald landed in 1848.
Catherine lives in Edmonton, Alberta and works as a heritage consultant. I live in Toronto, Ontario and where I work as a lawyer. We flew from our respective homes in Canada and met at the Sapporo airport to board the plane to Rishiri Island.
Mr. Eiji Nishiya welcomed us at the Rishiri Island airport, and that evening we met with him and two teachers from Rishiri High Sch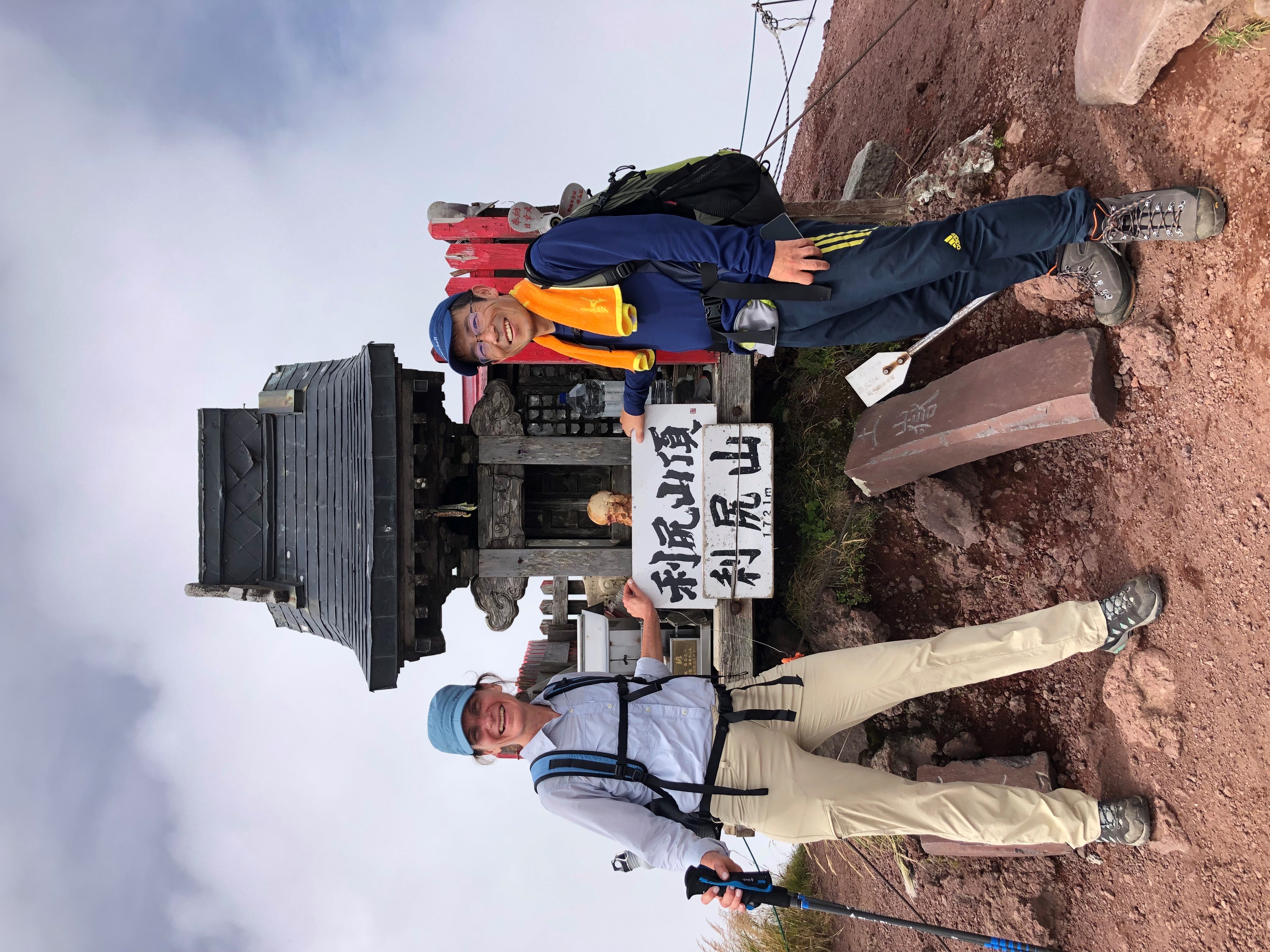 ool, Mr. Toshi Kano and Ms. Mayumi Nakanishi, to discuss our itinerary for the next few days. The next day Mr. Nishiya and Catherine hiked Mount Pon (444M) and Mr. Kano and I climbed to the peak of Rishiri Fuji (1790 M). Catherine and I enjoyed the onsen in the hotel that evening.
Mr. Nishiya gave us a tour of the Island by car on our second day on Rishiri; we visited Ranald MacDonald's landing place with the monument commemorating his arrival as well as the place where he was imprisoned. We were quite moved as we stood on the beach. It was a windy day and we could imagine how Ranald felt as he navigated his small boat towards the island. We each collected a stone from the landing place as a memento. Mr. Nishiya also introduced us to some local fisher-people who were preparing sea urchins they had harvested. They cracked one open and invited us to taste the fresh uni. Mr. Nishiya collected a glass float from near their cabin for each of us to take home as a souvenir. Little did we know this would not be our last fishing experience on Rishiri. Later that afternoon, we visited Rishiri High School where we were greeted by the Principal and Vice Principal. We were surprised to learn that the school has 71 students and 24 teachers. This is a very high ratio of teachers to students compared to North America. We then went to Ms. Nakanishi's classroom of students aged 15-16 years old. Catherine gave a PowerPoint presentation to the students about Ranald's early life and his later years in North America. Several of the students gave presentations about Japanese culture and food and Rishiri Island flowers. They presented us with beautiful cream puffs and a local drink so that we could sample Japanese sweets. They then asked us questions about Canada. We gave the students tokens of our appreciation: Canadian flag pins and Hudson Bay Company bookmarks. That evening Mr. Nishiya, Mr. Kano and Ms. Nakanishi joined us for dinner at the Rishiri Island Inn. The next day, we visited the museum in the morning and went sea kayaking in the afternoon. To our surprise, we were not paddling, but fishing in the Sea of Japan! Catherine caught a 14 kilogram hamachi fish. We took the hamachi to our hotel in hopes the chef would prepare it for us. The hotel declined so Mr. Nishiya took the fish to a sushi restaurant. That evening we talked about how fortunate we were to have started our first visit in Japan on Rishiri Island and experience the warm and generous hospitality of our host Mr. Nishiya, Mr. Kano and Ms. Nakanishi.
We met at the hotel on the morning of our last day on the island. Mr. Nishiya and Mr. Kano took us out for ramen at the famous restaurant. It was a very stormy day and we wondered whether we, like Ranald, would remain on Rishiri but went to the airport and were able to fly to Sapporo, connect to Kyoto and, after a week of meetings, eventually Tokyo. We met Ranald MacDonald scholars, Mr. Yuji Aisaka and Ms. Yuko Imanishi, for dinner at a restaurant on the Kamo River in Kyoto. We also met Profs. Toshi Tanaka and Norie Yazu of the Japanese Association for Canadian Studies and enjoyed tori-suki at a restaurant in Tokyo.
We look forward to a future visit when we'll be able to go to Nagasaki to follow that chapter of Ranald's story. On return to Canada, Catherine spoke to the Japanese-Canadian Seniors Group in Edmonton about our experience and they were very interested to learn about Ranald's life. Next year is the 40th anniversary of the sister province relationship between Hokkaido and Alberta.
We really appreciated the generous hospitality extended to us by all of the people who hosted us on Rishiri Island, in Kyoto and in Tokyo. We hope to continue to build relationships with our friends in Japan through Ranald's story and look forward to our next visit.
~~ Emily Cole