Saturday, February 4th, 2012
RISHIRI: A Pilgrimage … I want to say right now that I love Rishiri Island.  A few FOM members have already written about their visits to various 'Ranald-related places' in Japan, and I was thrilled that, late in 2011, I got to go, too. This was a trip nearly two years in the making in part because of the sheer number of people and places we wanted to see while in Japan, but thankfully everything came together more or less as planned, and in late October we arrived at Wakkanai on the north-western tip of Hokkaido where we were met by our friend and long-time FOM member, Yamazaki-san, who, though he lives in Ebetsu, a suburb of Sapporo and a good 6-hour drive from Wakkanai, insisted on driving up to join us on the first leg of our journey – a two-day stay on Rishiri Island. It was our intent to spend time exploring Rishiri Island before catching the ferry back to Wakkanai and returning to Sapporo via Yamazaki-san's car.  [More about this later…]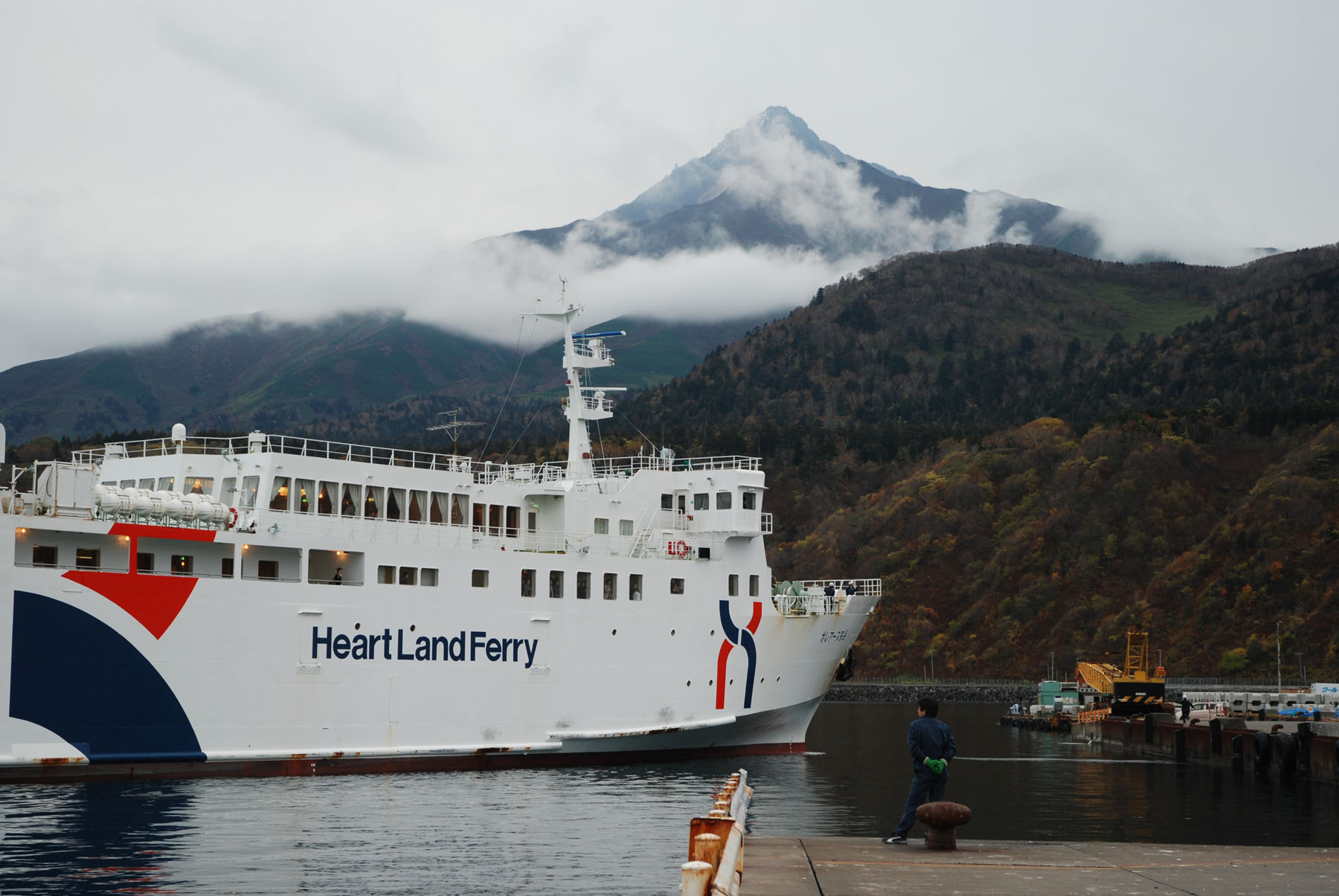 Our passage from Hokkaido to Rishiri was uneventful – just the way most people like their ocean travel to be.  The Sea of Japan was calm as we stood out on the narrow, windy deck and watched the silhouette of Rishiri-Fuji grow larger and more detailed as we approached, commenting to each other that this was the same mountain peak Ranald set his sights upon as he struggled to maneuver his small, unwieldy boat closer to land on that long-ago July morning.  There are, in fact, real similarities between the appearance of Rishiri-Fuji and Mt. Hood – the mountain of Ranald's childhood – although whether this had any effect on Ranald  [e.g., did he also see the resemblance between the two peaks?] only he himself could say.  In my own humble opinion, by the time he got close enough to Rishiri Island to make out the details, I would venture that Ranald really didn't care what Mt. Rishiri looked like – he simply wanted to find a place to safely "castaway".
Mr. Eiji Nishiya, the dedicated and enthusiastic curator of the Rishiri Town Museum, met us when we docked – camera in hand, of course.  [We know many good photographers, but I have to say that Mr. Nishiya takes his photography seriously, and I am always excited to open his newest emails to see what treasures he has sent us.]  Mr. Nishiya took us on a brief drive along the ocean before delivering us to our initial destination – a modest western-style, "beachside" hotel that served breakfast and dinner and had its own in-house 'onsen'.  I've put the word "beachside" in quotation marks because, as far as I saw, there are no beaches on Rishiri Island, at least not the sandy kind; in fact, the shoreline reminded me very much of the Oregon Coast between the Sea Lion Caves and Seal Rock, where barely-eroded basalt flows meet the Pacific Ocean. Consequently, Rishiri felt very much like home to me [I grew up on the Oregon coast] and I spent much of the following days trying to convince Mr. Y. that it might be nice to immigrate to Rishiri sometime in the future.  Even the storm that moved in overnight could not change my mind . . .
We were awakened the next morning by the sound of wind and rain against our window, but we are Oregonians and a little wind and rain is nothing to us.  Mr. Nishiya was ready for us and by mid-morning we were happily rummaging through the Ranald MacDonald exhibit at the Rishiri Town Museum.  All three of us were impressed by the number and quality of the exhibits, ranging from artifacts of the Ainu First Peoples to the subsequent influence of the Japanese who eventually displaced them, a creditable natural history exhibit of common and indigenous flora and [stuffed] fauna, a section devoted to the local industry of fishing and sea-farming and – of course – a well-placed and very well organized area devoted to none other than Ranald MacDonald.  We could have easily and quite happily spent a few days examining Mr. Nishiya's own private stash of MacDonald treasures, but arrangements had been made for Mr. Nishiya and Mr. Yatabe to give a brief presentation about Friends of MacDonald to the student body of one of the two island junior high schools – and we were all pleased and gratified that, once they had heard the incredible true story of Ranald MacDonald the First English Teacher in Japan, the kids were genuinely interested in and enthusiastic about "their" local hero.
Next we loaded into Mr. Nishiya's car and drove around the whole, rocky island.  Except for the difference in temperature [and the lack of palm trees!] I could have almost imagined myself on Maui, again because of the abundance of basalt and ancient lava flows.  In fact, more than a few of the rocks had names – "Neguma no Iwa" [Sleeping Bear Rock] and "Jimmen Iwa" [The Rock Face] are just two examples. Mt. Rishiri is extinct – its last eruption is estimated to have been in 5830 BC – give or take 300 years – and erosion has produced an extremely rugged topography, but the wind and the waves have not yet been able to break all that basalt down into sand.  This includes Notsuka Cove, where it is believed that Ranald first set foot on Rishiri; marginally protected from the elements, it is still used today by local fishermen.  Like every other Pilgrim to that place, we stood and gazed out over the Sea of Japan and tried to imagine how it had been for him.  And then, again like the others before me, I bent down to pick up a rock – to bring back to Toroda as an offering, perhaps?  I found several, and even pocketed a couple, but something made me keep looking.  I was soon rewarded by a flash of turquoise between the wet stones – a piece of glass float, broken and tumbled by the waves.  Of course, Ranald never saw any glass floats while he was in Japan – Japan didn't start using the glass floats until 1910.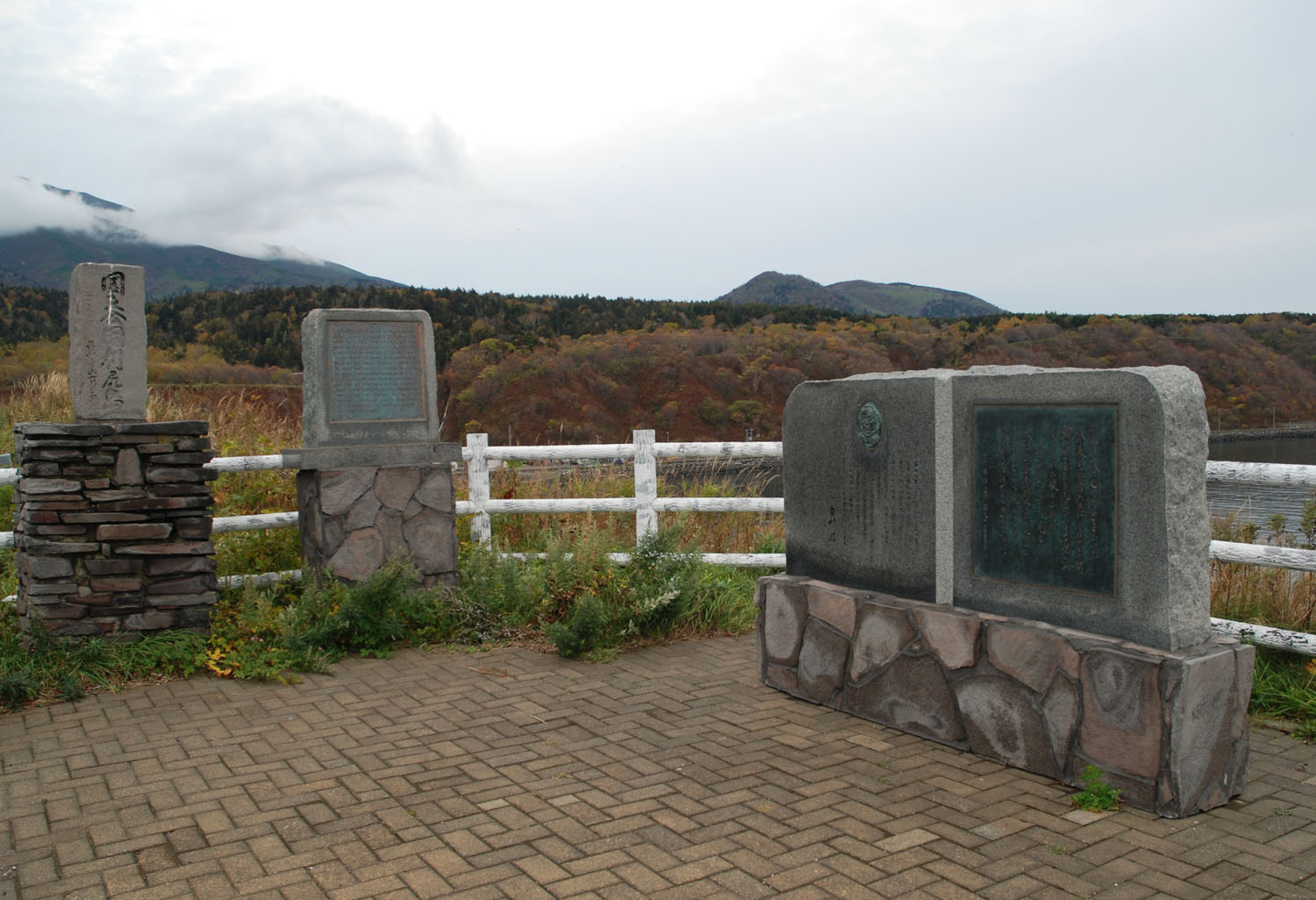 Before visiting Notsuka Cove we went to see the monuments memorializing Ranald's exploits.  The first has Ranald's likeness and calligraphy of an excerpt from the novel "Umi no Sairei (海の祭礼)" (pub. 1986) by Akira Yoshimura (吉村 昭). The book became a sensation in Japan.  There has been some confusion about the larger of the two monuments: in photos it looks as though there are two separate stones, but it is an illusion created by the way the granite is polished.  This is, in fact, a single monument.  The second monument on the left in the photo has the following inscription by Professor Emeritus of University of Hokkaido, Jyukichi Suzuki (鈴木重吉名誉教授) [Prof. Suzuki was born on Rishiri Island]:
"In 1848 'Kaei 1' Ranald MacDonald born in Oregon reached 'Notsuka' pretending to be a shipwrecked sailar (sic). He felt deep racial connections with Japan across the Pacific although he knew of her total seclusion from the outside world.  Inevitable he was arrested and sent to Nagasaki via Soya and Matsumae.  During his imprisonment in Japan he did his best for mutual understanding and friendship between the two peoples transcending the language barrier.  Five years later when Comm. Perry came to force open the closed doors of Japan, MacDonald's former students at Nagasaki Einosuke Moriyama and others played an important role as interpreters. Thus Ranald enjoys the honor of being the first formal teacher of English and indirectly a father of modernizing Japan."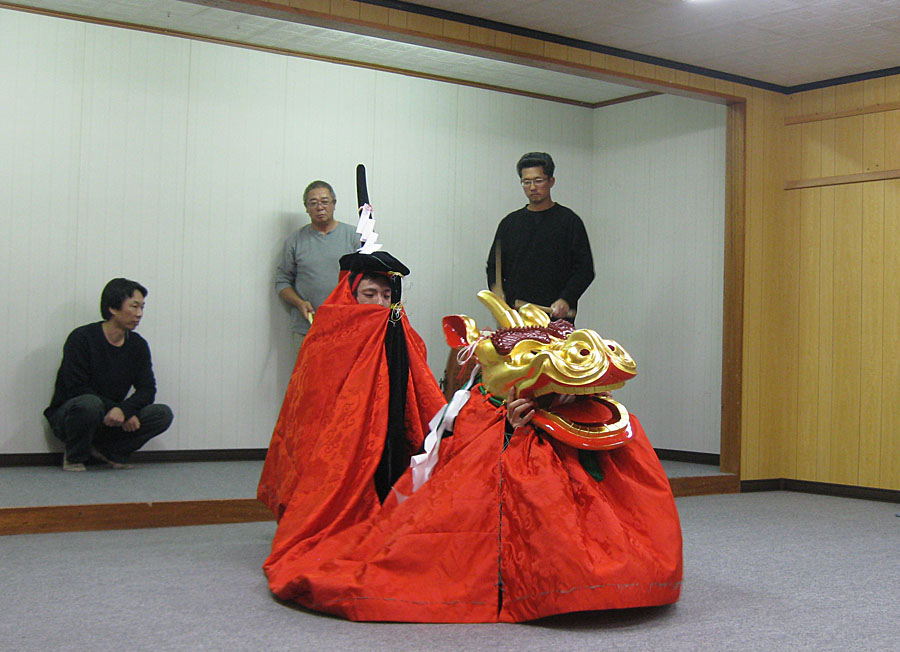 Later that evening we were treated to a very private practice session of  a Kirin Shishi-Mai (麒麟獅子舞) conducted by some local residents, including Mr. Nishiya – who plays the Japanese bamboo flute.  During a short break in the practice one of the men looked at us and grinned broadly. "No ferry tomorrow, too stormy!" he said with a laugh.  "100% no ferry!"  We all looked at each other in disbelief – would they actually cancel the only ferry back to Wakkanai?  We had a plane to catch in Sapporo, and a tight itinerary to follow!  Luckily we managed to get the last two seats in the very rear of the daily prop-jet flight from Rishiri Island to Sapporo [which, we later found out, is also frequently cancelled due to weather]. Sadly, we had to leave Mr. Yamazaki behind, promising that we would indeed drive down the western coast of Hokkaido with him on another day. . .