The annual membership luncheon of the Friends of MacDonald, chaired by Mas Yatabe, was held on May 14, 2011 at the Baked Alaska Restaurant in Astoria, OR.  Notable people among the attendees were Consul General of Japan Takamichi Okabe and his wife, Kozue, Dr. Stephen Kohl, author and retired professor of East Asian Languages & Literatures at the University of Oregon and his wife, Katie, and representing the Chinook Nation, Councilman Charles Funk and his wife, Mary.  Also in attendance were McAndrew "Mac" burns, Executive Director of Clatsop County Historical Society and his daughter.
The agenda included a State of the Organization and financial report presented by Chairman Mas Yatabe. Also discussed was a plan to distribute Unsung Hero, written by Atsumi McCauley and illustrated by Mariko King.  Unsung Hero, a bilingual children's book about the young adventurer, Ranald MacDonald, is written in both Japanese and English text with full-page, color illustrations.  It is the intention of Friends of MacDonald to present gift copies to local Astoria elementary schools as well as to selected elementary schools in the greater Portland/Clark County area.  Councilman Charlie Funk brought news that the Chinook Indian Nation, the State of Washington, and the National Park Service are working together to develop a new national park unit. This unit, named "Chinook Middle Village – Station Camp", and authorized by Congress in 2004, will focus on the first 30 years of the relationship between the Chinook and the United States, a period of time that encompassed the Lewis and Clark Expedition as well as the founding of Astoria, and will most certainly focus on the life and times of Concomly, the principal chief of the Chinook Confederacy and grandfather of Ranald MacDonald.
This new national park unit will be directly adjacent to Fort Columbia State Park and is hoped to be open in 2011.
Alice Yatabe, who developed the website for Friends of MacDonald, discussed the organization's original mission, reading from a letter written in April 1991 by Donald Sterling, FOM Charter Member, long-time journalist and past-President of the Oregon Historical Society.  Yatabe quoted Sterling as calling Ranald MacDonald "the personification of the early contacts between the West and Japan in the mid-19th Century", and encouraged the Friends to continue to assemble and disseminate information about a wide range of related subjects rather than concentrate only on MacDonald's own life and adventures.  Yatabe pointed out that FOM was currently doing this by re-connecting with the Chinook Nation as well as with  Clan McDonald, both in the USA and Scotland – and by FOM's on-going close relationship with Friends of MacDonald Japan.
As the informal luncheon came to a close those in attendance were treated to a beautiful solo rendition of Chidori No Kyoku performed by Mrs. Kozue Okabe on koto before everyone moved to the MacDonald Birthplace Monument on the corner of 15th and Exchange Streets, the site of the original Ft. Astoria, for a group photo.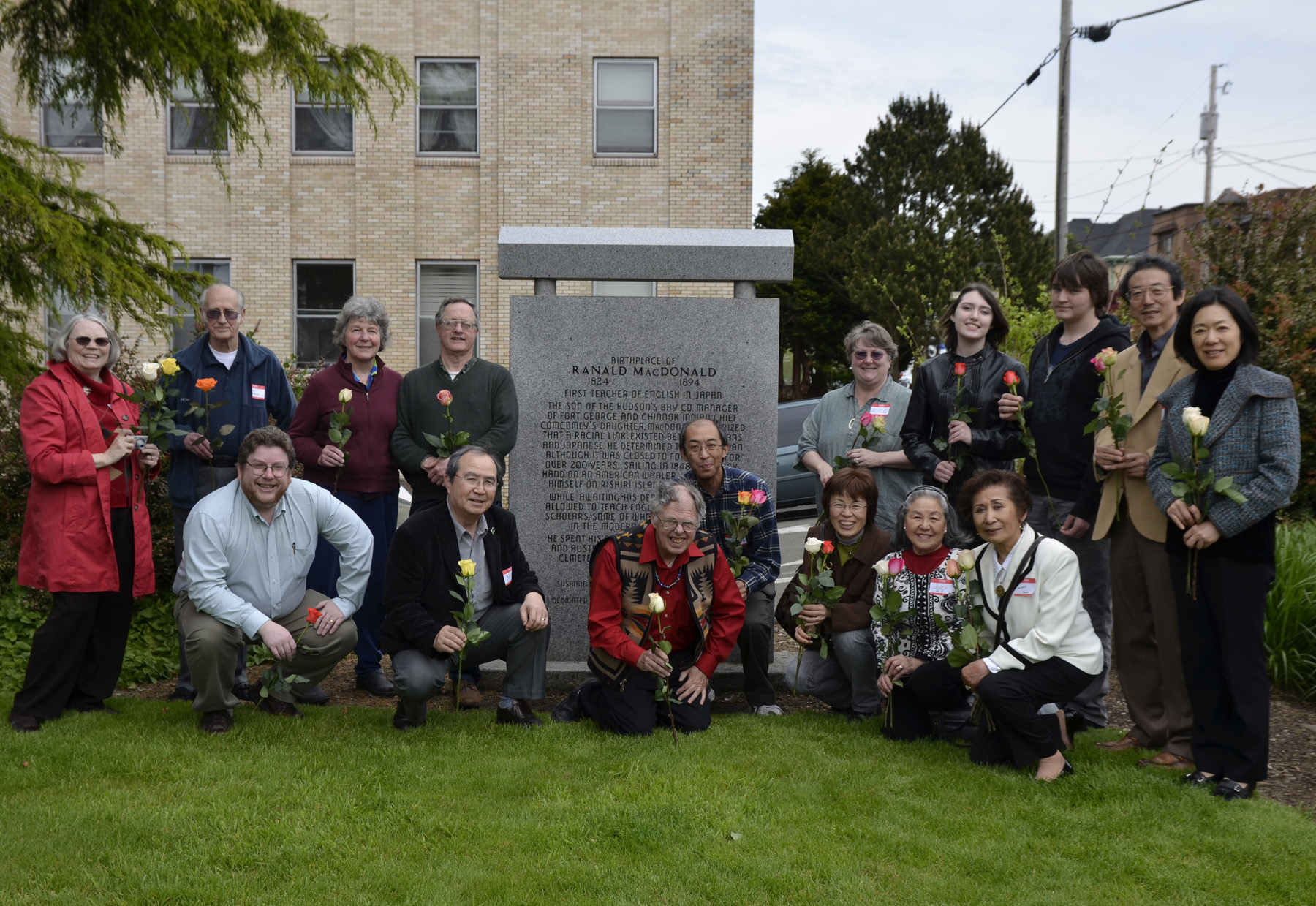 Tags: Chidori no Kyoku, Chinook Middle Village, Chinook Nation, Friends of MacDonald, Ft Columbia State Park, Unsung Hero